Creating green spaces within the urban workplace
We create inspiring, natural environments that can help improve productivity, creativity, health and wellbeing.
Extensive research has informed our approach to the design of natural green spaces within office environments, and the following is a brief synopsis of our findings. If you are interested in finding out more on this subject please get in touch, and look out for our publication 'Workplace Greenspace – an introduction to creating green spaces within the urban workplace' which is coming soon.
The benefits of including quality green spaces within urban environments are well documented and numerous and it has been established there is a direct correlation between human health and well-being and nature. This has been crystallised through the research and practice of Biophilic design – a response to the human need to connect with nature which works to re-establish this contact in the built environment.
Work related stress is a serious problem for employees and employers, and creative thinking is required to help solve this 21st century problem, especially during a tough financial climate. Biophilic design strategies within urban communities and the healthcare sector have been proven to reduce stress, enhance creativity and clarity of thought, improve well-being and expedite healing. This approach is now being adopted by architects and designers for the commercial sector, and forward thinking businesses are seeing positive results.
Prior to becoming a landscape architect, Nicola Greaves worked in project management and human resourcing within fast paced creative marketing organisations. Her insight into the financial pressures facing businesses and the issues surrounding staff welfare, coupled with knowledge and experience of biophilic design, led her to investigate whether the routine inclusion of natural green space within the urban workplace could have a positive effect on UK business. The results were compelling…
Why do we need quality green spaces in our workplaces?
---
---
---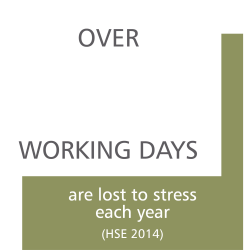 ---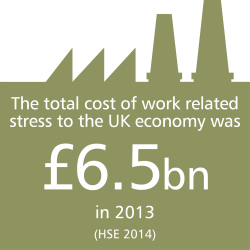 ---
"Exposure to an outdoor environment reduces stress faster than anything else and can produce significant recovery within as little as 3-5 minutes."
GreenLINK, 2010
Why should this concern employers?
---
Prolonged stress can result in:
---
What are the benefits of green spaces within the workplace?
Human working environment
---
---
---
---
Attracts quality employees
---
Reduced health-related costs
Reduced outsourcing costs
---
---
Reduced canteen overheads
---
Increased cooperative spirit
---
---
---
"For every £1 invested in staff well-being, there is a return of £3 in improved efficiency and productivity."
Health & Safety Executive, 2014
What's wrong with using the local park?
Nothing! But evidence shows that staff are too busy to take breaks during the working day, let alone leave their workplace to visit green amenities. A 2011 survey by private health company Bupa revealed that out of 1,000 office workers polled:
---
---
---
This is costing businesses £millions in lost productivity. Creating quality green space within the workplace, where staff can easily reap the benefits without it impacting on their busy day, can not only boost productivity but also improve the general health and well-being of staff, with all the benefits that brings. In addition it can increase a companies' green credentials. It's a win win!
what spaces are suitable?
From rooftops to courtyards, balconies to green walls, most workplaces will have some redundant internal or external space with the potential for creating quality green space. Whether you'd like outdoor meeting rooms, communal event space, a green gym or simply an attractive view of nature, there is a solution to fit all briefs and budgets.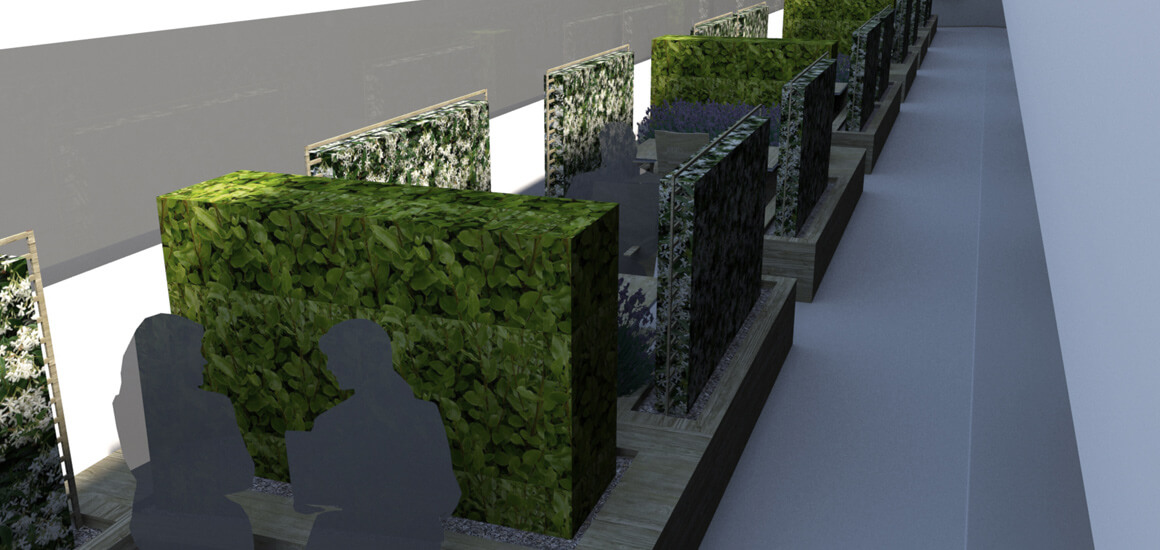 "The work environment has always been recognised as essential to employee well-being and performance. The most modern employers design environments to help people thrive, collaborate and be creative. Being connected to nature and the outside world is a big part of that."
Professor Sir Cary Cooper, CBE. The Human Spaces Report, 2015
---
+
Well-designed green space
=
A happy, healthy, productive, creative, prosperous business.
If you'd like to find out how to turn your workplace into a green space, please get in touch.